Here is a link to the registration form:
 Camp in the Community Registration Form
Please complete and return the form:
E:mail: brooklyncommunityumc@gmail.com
OR
Mail:
Brooklyn Community United Methodist Church
P.O. Box 97
Brooklyn, WI  53521
For more information, please call 608-455-3344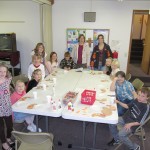 We encourage parents to bring their children to service.  Each week, Pastor George takes a few moments to share a special message during "Kids Time" with the children.
Attending Sunday school gives our children the opportunity to be a part of the process of growth and development of spiritual and faith development.  Those who attend Sunday school have a better understanding of the teachings of Jesus Christ.  When we can involve and educate  youth, we are providing them with a strong foundation on which they can grow, learn, experience and share their thoughts and feelings.  Students in Sunday school are actively engaged in stimulating and interesting activities and lessons.  Sunday school instills in the minds of the students the principles of Christianity and the teachings of Jesus Christ.